Have you been faced with the task of postponing your wedding? Are you now struggling to find a new date? Have you booked a spring/summer wedding and now facing either a year long delay to your big day or a different type of wedding entirely? We totally get it-things have changed in the world of weddings and that means your plans are changing too.
We love a wedding at any point in the year. The fact is, whether you marry on a Thursday in January or a Saturday in August, you're still declaring your love in front of everyone you love, and celebrating with the party of your dreams.
This is written for everyone who has had to sadly postpone their wedding, perhaps to a season they wouldn't have first gone for, and those of you now struggling to find your perfect venue for your dream date.
Some compromise is needed, but we would love you to embrace that compromise and be excited for your wedding, be it summer next year (perhaps a lot longer than your original date) or Autumn winter this year. You WILL get married and it WILL be amazing!
According to the latest bridebook survey, the most popular wedding season is Summer (44%), followed by Autumn (26%), and Spring (22%). Just 8% of couples opt for a winter wedding. With one of the largest costs being venue hire (the average being £6152) many venues offer discounts for quieter months. If you've fallen in love with a venue but can't afford the price tag for a Saturday in Summer (or even find a Saturday available in the summer), why not opt for a Winter wedding? Worried about breaking the tradition of having a wedding on a Saturday? Don't be! Almost half of couples had non-Saturday weddings (44%).

Fridays are popular with 18% of weddings, as well as Sundays which represent 9% of weddings. Those that really want to be present for your wedding will do there upmost to be there. Make sure they are given plenty of time for them to plan it into their diary. What these statistics show, is that demand for any day except Saturday is low, so there is more chance of you bagging your venue and dream suppliers if you move away from a Saturday.
If you are happy to look out of season, you're less likely to be disappointed if the rain does fall (and perhaps get gorgeous images like this one below?!). Venues in the winter month can be simply gorgeous and you can go to town with decorating and offering seasonal food, drinks (did someone say mulled wine!?) and even a theme if you like. This is the ideal time to get creative, again saving money.

How about a Christmas themed wedding – Christmas trees are an inexpensive way to dramatically change the look of a venue, and most venues already have them, again saving you money. If your heart is set on a marquee or barn, don't be put off to still consider these venues in the wintry months. Talk to the venue and find out what heating provisions they have. You'll most likely find that they have brilliant heater systems and may even have the added benefits of outdoor fire pits or heaters which will only add to the ambience and character.
Don't worry about compromising on your dream dress either! If you're set on a slinky backless number but now have a winter wedding, speak to your bridal stylist about adding a lace overlay for the day, or a fur stole. Both can be removed for the evening when you're inside and ready to dance the night away (plus it gives you two different looks for the day). Also, you'll enjoy the warmth of what we call the adrenaline blanket! You'll naturally feel warmer and won't notice the cold as much as normal!
Your florist will be full of ideas for your floral arrangements, and will work with you to use seasonal blooms or source your favourite flowers if they are out of season.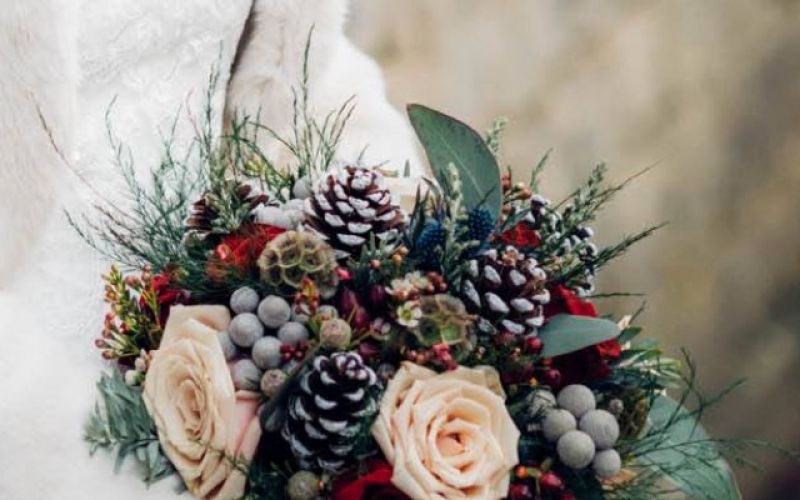 So, don't think of your dream venue or wedding as out of reach - just a little compromise may be required. By picking your date wisely, you may well open up your options to having everything that you want.
Just remember, there is just a pause on weddings right now, but when the play button gets pushed we are ready and waiting to come out with a bang!
Love always wins!
Happy planning!